24V UL 5085 transformer at 20VA OUT PUT
Product Detail
Product Tags
Introducing our products that combine high quality and reliable features to meet your needs. Our products are designed to ensure maximum efficiency and safety. With a primary voltage range of 120V to 575V and wire colors including white, black, red, orange, purple and gray, you'll be able to connect and operate the unit with ease. For your convenience, you can remove the stand if needed.
Our connector leads are made from UL1015, 18AWG wire gauge, can be stripped and tinned, and are available in lengths of 10-12.7mm. These wires can be connected using spade, ring or quick connectors, making installation easier and faster. The secondary voltage COM is 24V, and the lead colors are blue and yellow.
Our products feature a no-load secondary voltage of 27.5VAC +/-5%, which will help prevent voltage drops and provide consistent performance. The current load voltage is 24.0VAC +/-5%@0.833A, which is very suitable for applications requiring low voltage output. Our products are insulated to Class B (130) and have winding protection that limits their output to ensure proper operation. The product is also equipped with a temperature protection system including a 130℃ thermal link with a secondary circuit.
Safety is our top concern, that's why our products are tested for dielectric withstand voltage, including 2200V between primary circuit and iron core, 2500V between primary circuit and secondary circuit, and secondary circuit and iron core 2500V 500V between cores. The excitation power is 4.5W MAX to ensure the best performance.
In conclusion, our products combine high-quality features to deliver the best results for your needs. With its easy-access connectors and variety of lead colors, you will be able to use our products with ease.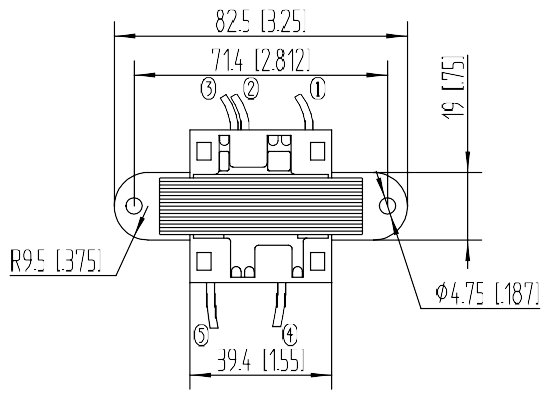 Model
Primary
Secondary
See Note 1 for LeadColor information
Blue-Yellow
Frequency,Hz
Volt, V ac
Volt, V ac
Power, VA
T240-021Bydzzz
50/60
120
24
20
T240-071Bydzzz
50/60
240
24
20
T240-241Bydzzz
50/60
120/240
24
20
T240-271Bydzzz
50/60
208/240
24
20
T240-131Bydzzz
50/60
460
24
20
T240-151Bydzzz
50/60
575
24
20
T240-2K1Bydzzz
50/60
460/575
24
20
NOMENCLATURE:
y = (H, G), bracket type H denote for bracket
G denote for without bracket
d = (L1, L2) input/ output connection type L1 denote for lead wire with wire connector
L2 denote for lead wire without wire connector
zzz = (000-999), denote for Customer ID Suffix
NOTE:
Lead color:
Primary Voltage COM: 120V 208V 240V 460V 575V Lead color WHITE BLACK RED ORANGE VIOLET GRAY
Secondary Voltage COM:24V Lead color BLUE YELLOW
Wire gauge: UL1015, 18AWG.
Terminal: Strip and tinned 10~12.7mm, May use spade, ring or quick connectors
Maybe remove the bracket according to customer requirements (Type G Panel Mount).
---
---
Write your message here and send it to us